ADS Architects have completed a new five-storey wine centre for the d'Arenberg Wines winery in McLaren Vale, Adelaide, modelled on the Rubik's Cube. The uniquely shaped glass façade is a wine tasting promenade on the property of one of South Australia wineries.  The majorly flatbox structure is a dynamic Rubik cube with each horizontal front directed towards a different direction.
The entire structure is a mix used building clad in mirror glass, hiding a solid frame of iron and concrete holding it all together. Each of the five levels have been carefully designed to entice and excite the senses, including features such as a wine inhalation room, a virtual fermenter, a 360degree video room, and many other tactile experiences.  The external form feature layers set back one and half metres from the four storeys above, giving the impression that there is a cube floating on top of the vines.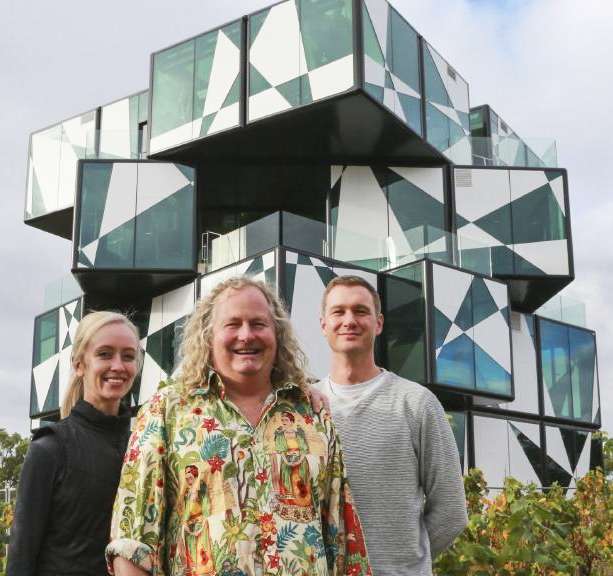 The idea to build the d'Arenberg Cube came to Chester Osborn in 2003. Inspired by the complexities and puzzles of winemaking, Chester created the idea of a cube-shaped building. Visitors are encouraged to explore the Alternate Realities Museum, located on the ground floor, and view the many art installations on display.
"It took 20 minutes of just drawing out squares and then drawing lines on them, I just kept drawing lines and looking at it and going, hm, we need one that's a bit more horizontal… and that was it. It took about 20 minutes"  chief d'Arenberg winemaker Chester Osborne says.
According to The Lead South Australia, the $10.5 million, 5 story  d'Arenberg Cube  would be a mixed use building and will encompass a new tasting room, three bars, a function room, offices, a restaurant and a dynamic viewing gallery.